Favorited
Favorite
4
This is a great tutorial write-up shared to us by Kim A. Knight at UT Dallas and the fashioningcircuits team. This write-up highlights how to use the Sparkfun LilyTwinkle and Sewable LEDs to create a Twinkling Wrist Cuff.
This tutorial can be adapted to form any number of unique and interesting projects. Kim includes tips and suggestions for folks interested in running their own workshops around these materials as well.
Click here for the full download.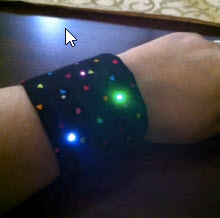 Date Posted: May 23, 2014
Last Updated: June 10, 2014