Mini-Microcontrollers for Educators - Boulder, CO
Mini-Microcontrollers for Educators - Boulder, CO
Connecting the STEM Dots: Microprocessors and Electrical and Computer Engineering in the Classroom.
SparkFun Electronics is pleased to announce our first Mini-Microcontrollers for Educators class!
This three-day class is designed to give teachers and educators (Middle School - Higher Education) a foundation in electronics, programming, computer science, and "Making" for their classroom. In this class, we will introduce the basics of circuits, electricity, engineering and computing using Arduino. The course will focus on both the technical aspects as well as the pedagogy, activities, pacing, and strategies for implementing a project-based STEM classroom.
We asked attendees at last year's class in Boulder, CO to summarize their goals, and we created this word cloud based on their responses: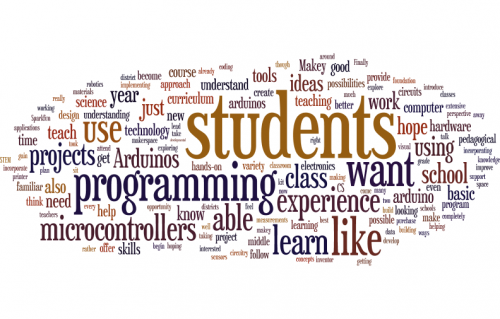 Some of the tools we will use are the Processing programming language, the SparkFun Inventor's Kit for Arduino, the LilyPad e-textiles line and the SparkFun RedBot robotics platform.
Note: Please install the Arduino 1.8.x (or the latest available version) software on your computer before class. Click here for instructions on installing the Arduino software.
In addition, please install Processing and Fritzing as well. We will go in more depth of how we use these free and open-source tools in the class.
Professional Development Credit This class is good for 3.0 graduate credit hours through Colorado State University continuing education with an additional payment to be collected at the time of the class. Paperwork for credit will be available during the first and second day of class.
Materials included in this class include:
Prerequisites: This class is exclusively for instructors and educators who want to learn how to implement physical computing, programming and electronics into their classroom. There are no prerequisites for this class, however, the class requires that participants have the physical dexterity to insert wires into a breadboard (the physical equivalent of inserting shoelaces into the holes of sneakers).
What to bring: Please bring a laptop (including all administrative privileges and passwords) and ideas about what a STEM classroom looks like for you. We will explore these ideas throughout the week. If you do not have a laptop, SparkFun laptops will be available on a first come, first served basis.
Date July 24-26, 2017
Time: 9:00am-5:00pm (with a break for lunch from 12:00pm-1:00pm)
Cost: $500 per participant (includes more than $300 worth of take-home classroom hardware).
Location: SparkFun Electronics Boulder, CO
Instructors: Brian Huang
Out-of-town Lodging, Transportation, and Activities
We will NOT accept walk-ins for this class unless you are registered. Thank you for understanding.
---
Note: Class registration is fully refundable until the weekday (M-F) prior to the class at 5:00pm MST. Please call to do so. If you wish to cancel after that time, or miss the workshop for any reason, we will transfer the amount you paid to SparkFun store credit, but cannot issue refunds. Thanks for your understanding!
---
Please log in to register.