Qwiic Distance Sensor (VL53L1X) Hookup Guide
≡

Pages
Contributors:
Englandsaurus
Favorited
Favorite
0
Introduction
The VL53L1X is the latest Time Of Flight (ToF) sensor to be released. It uses a VCSEL (vertical cavity surface emitting laser) to emit a class 1 IR laser (940 nm) and time the reflection to the target. (You can't see the laser but cell phones can) What does all this mean? You can measure the distance to an object up to 4 meters away with millimeter resolution! That's pretty incredible.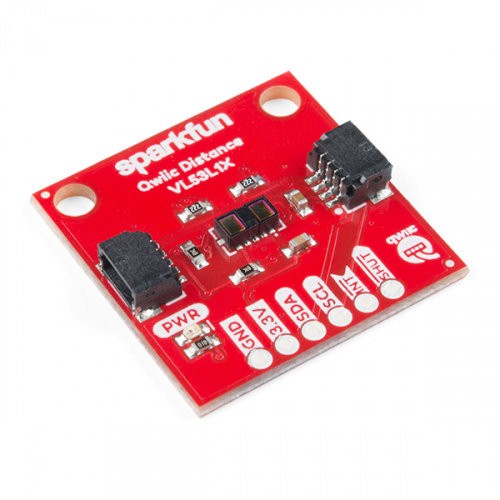 We've found the precision of the sensor to be 1mm but the accuracy is around +/-5mm. The minimum read distance of this sensor is 4cm. In this hookup guide we'll go over how to read distance, change ranging modes, and check the status of our range measurement along with the sample rate. We'll also check out how to display distance and speed over an LCD display.
Required Materials
The Qwiic Distance Sensor does need a few additional items for you to get started. The RedBoard Qwiic is for the Arduino examples and the Qwiic pHAT is for the Raspberry Pi example (see note below). You may already have a few of these items, so feel free to modify your cart based on your needs. Additionally, there are also alternative parts options that are available as well (click button below to toggle options).



Retired
Raspberry Pi Example:
If you don't already have them, you will need a
Raspberry Pi
and
standard peripherals
. An example setup is listed below. (
The Qwiic Distance Sensor and Python library have not been tested on the newly released Raspberry Pi 4 because we don't carry it in out catalog yet.
)
Suggested Reading
If you're unfamiliar with jumper pads, I2C, Qwiic, or Python be sure to checkout some of these foundational tutorials.
RedBoard Qwiic Hookup Guide
This tutorial covers the basic functionality of the RedBoard Qwiic. This tutorial also covers how to get started blinking an LED and using the Qwiic system.
The Qwiic Distance Sensor is intended for the Qwiic connect system. We recommend familiarizing yourself with the Logic Levels and I2C tutorials before using it. Click on the banner above to learn more about our Qwiic products.
---