Connect AnyThing Curriculum

Welcome to Connect AnyThing
This website is designed to support classroom teachers, volunteers, and staff in museums, libraries, and Maker spaces, basically anyone engaging new audiences in design, prototyping, and tinkering with electronics. The Getting Started guide will help you prepare everything you need for six different hands-on projects. Documentation and resources (including images and video) provide step-by-step instructions for fun and exciting projects. Activities build upon one another, developing deeper concepts and skills.
What's CAT, and why use it?
Connect AnyThing (CAT for short) transforms the Intel® Galileo into a Wi-Fi hotspot, making it possible to access projects from any connected mobile device (for example, a cell phone, laptop or tablet). CAT requires a brain, in this case the Intel® Galileo Gen 2 Arduino-certified board. Based on Intel architecture, Galileo incorporates a bit more processing power than a standard Arduino microcontroller, enabling tinkerers to incorporate Linux* into Arduino sketch programming. If Galileo and CAT are new to you, have no fear because this curriculum is designed to enable both beginners and experienced DIY electronics enthusiasts to get up and running with a project (prototype) right away.
Galileo is extended by CAT to create an amazing classroom tool that allows students, teachers and tinkers alike to create, connect, and play with exciting projects. Educationally speaking, CAT allows students who have no prior knowledge of electronics or physical computing to engage hands-on with building of circuits, "programming" interactions and using electronics embedded in things.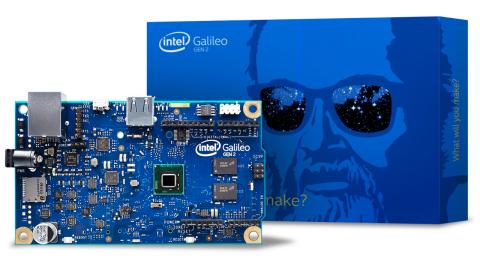 CAT Leverages the Computational Power of the Intel Galileo
Using CAT in the classroom generates a high degree of excitement and engagement for participant at all levels of knowledge and understanding. When paired with basic craft materials and simple prompts, learners are unleashed to create elaborate (sometimes whimsical) projects in a matter of minutes. Experiencing technology through a simple craft project takes out the anxiety of something new, providing context and a clear path to engage.
CAT makes this technology approachable. Support materials in print and digital formats use the CAT Development kit to make these electronics projects approachable. The Maker model of creating things, combined with simple hardware and software, are key to success for volunteers and teachers leading this curriculum.
Curriculum Breakdown
Each activity is designed to take a standard class period, or about 1 hour. Projects are designed to build upon one another, starting with project 1. Each activity relies on prior knowledge learned in previous activities, growing in complexity. Project 1 is designed as a stand-alone introduction for Intel volunteers and teachers alike. Projects 2 through 5 enable teachers and volunteers to take Connect AnyThing further, exploring systems thinking and rapid prototyping with participants.
This curriculum is organized for self-guided instruction and exploration. Each activity is designed for short introduction by the instructor, leaving more self-guided time for participants. Templates for printed project "placemats" and component flash cards are included for download with each activity. Placemats provide wiring diagrams for projects they are working on, plus reference materials to help them construct their own knowledge around CAT. To foster play and experimentation, each group receives a set of component flash cards to (hopefully) trigger students' curiosity. You may wish to encourage experimentation, inviting them to swap out sensors and actuators in their project to try something new.
Each project includes a list of recommended tools and materials in bullet-pointed lists. For convenience, we included Office Depot wish lists (handy for those who use Office Depot as a vendor). Feel free to use whatever materials you like, or have students bring materials to donate. Have fun, and build something cool!
Comments 0 comments